Last night, I went to the launch of a new wine brand, RoseEros, an upscale rosé (pink) wine created by Chateau Beaulieu in Provence. Why such a name for a dry rose wine from Provence? Because "Rose" is the anagram of "Eros" and also of "Oser" which means "Dare" in French. Beaulieu en Provence dared launch a Rosé, Eros, in an unusual style and wants to convince trade and consumers that rosé wines can be drunk all year around at home, in wine bars and night clubs and not only during the summer or over a barbecue. Rosé wine is hot, trendy and sexy.
This event started me thinking about how wines are presented to the journalists who then introduce them to the consumer or the trade. "We decided to launch RoseEros as we would launch a spirit brand or a champagne with a fun and exciting night," said James de Roany, managing director of Chateau Beaulieu, who has a good experience of this strategy since he worked for many years for the luxury group LVMH and in Champagne.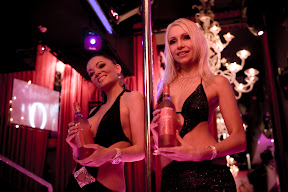 How does it translate in the event? The press launch was held in a very unusual place, the Pink Paradise night club more famous for its pole dancers than for wine tastings. Nothing offending or gross in the dancing: two pretty women, more athletic than erotic gave us all – men and women – a good dance show.
During the evening, music, screens and moving but soft lights really gave us the impression we were a little out of time or in the middle of the night, although the event started at 7:00pm and was over by 10:30. Night birds were just waking up! Talking to the journalists and professionals around the place, I heard favorable comments on the initiative: "I know this place",said a wine professional. "When I worked for Pernod Ricard, we held a lot of our events here." A female journalist told me she came to taste the wine, of course but also because she was curious about the place. Here is for the choice of the place: it was a success.
What happened to make this event and the wine memorable? The author of the Erotic Guide of the Louvre and Orsay museums, Jean-Manuel Traimond, was signing his book whose pink cover was appropriate to this pink evening, giving a highly cultural and elegant signature to the event. Jean-Manuel Traimond is an outgoing and pleasant man, who speaks many languages and knows his museums by heart. He is currently working on a guide on gastronomy and wine for the same museums.
The wine is one of those elegant and fine dry rosés from Provence, so successful during the summer but that could accompany as well your Thanksgiving dinner or your Valentine evening. I enjoyed it and could recommend it for those who like an alternative to white wines as an aperitif (a drink before a meal or after work).
I think press and trade will remember this event as special. It is still too early to have any press articles or sales' results but press and trade were happy and positive about this unusual launch for a wine. Does it mean this could be a successful strategy to market brands to press and consumer? It could be (or it should be?). Let a little fun enter our world!