Do you remember my grumbling about meaningless wine labels? Three researchers from U. of Chicago, U. of Michigan and Yale U., seem to have proved me wrong in an article published in the Journal of Consumer (April 2008).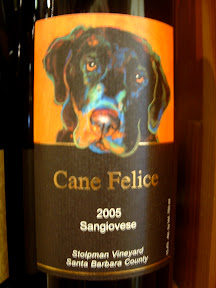 First, a study conducted by ACNielsen reported that nearly one out of five table-wines introduced on the US market in the last 3 years featured an animal on the label. Second, our three researchers conducted a series of tests that proved that consumers related better to a product they can strongly associate with themselves: if you love dogs, you'll choose a bottle with a dog on the label; if you like cats, ditto. Third, non sequitur labels have an other advantage over labels relating to the product: they are not shared by competitors – yet!
Source: Aparna A. Labbro, Ravi Dhar, Norbert Schawarz, "Of Frog Wines and Frowning Watches: Semantic, Perceptual Fluency, and Brand Evaluation", Journal of Consumer, April 2008.